Description
This is a custom anime embroidery pattern featuring the character Haruko Haruhara from the anime series FLCL riding a cycle.
Appearance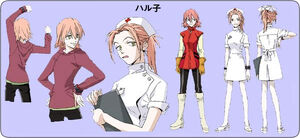 Haruko is a tall, slender and unearthly young woman with cat-like facial features. She sports a pale complexion, salmon-colored bob cut styled into a medium-length flare, and yellow-colored eyes that are also cat-like. Her usual outfit is a bright red coat, black pants, white boots, a white scarf, and a pair of goggles. She wears many other outfits in the series, such as a nurse outfit she likely stole from a nurse after tying her up, but one fashion accessory she is never without is a large metal bracelet on her left wrist. The bracelet acts as a kind of radar device, reacting to N.O. power and letting her know where Medical Mechanica robots and/or Atomsk might be. It can also create red chains, presumably to immobilize Atomsk.
If you would like to create an embroidery project featuring this design of the anime character Haruko from the anime series FLCL here is what is included in this package.
Includes:
Large Design Properties:
Width: 135 mm
Height: 186 mm
Stitch count: 79,294
Sewing time: 177 min.
Color count: 45
Small Design Properties:
Width: 43 mm
Height: 59 mm
Stitch count: 31,126
Sewing time: 79 min.
Color count: 45
Files Included:
2 formats: .pes .dst
2 sizes: Large Small
1 color chart
1 image print
If you have any questions, issues, comments, or just want to get in touch with us you can use the form on our site HERE.