Description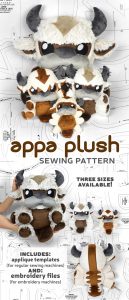 Anime Embroidery Plushie Pattern Appa:
Yip yip!
Hopefully most of you recognize this cuddly bison
For those that don't, Appa is a flying sky bison and the lifelong companion to Aang, the main character of Avatar: The Last Airbender. Sky bison appear throughout the sequel series, The Legend of Korra as well. This version looks like the big festival prize Korra wins in season 2, episode 1.
Obviously not everyone needs a huge Appa, so I designed it in 3 sizes. The middle size is the most ideal, and the smallest size was created mostly so people with 4″ x 4″ embroidery hoops could still join in the fun.
Appa looks amazing sewn in faux fur or long-pile minky. But it is tricky to sew, so to make Appa in smooth fabric but still keep the cute head fringe, I created a bangs piece that drapes over his forehead and eyes.
If you want to create your own Embroidery Plushie of Appa here is what is included in this pattern
As always, the pattern comes with applique templates to make the details, which works great if you're sewing with faux fur since that's harder to embroider. These will work if you're sewing the details by regular machine or by hand. If you have an embroidery machine, there are files for the 3 sizes as well — the small is best for 4″ x 4″ hoops, the medium for 5″ x 7″ hoops, and the large size needs a really big hoop: 8″ x 14″.
I hope you all like it!
If you have any questions, comments, or you just want to reach out to us and share some of the custom embroidery projects you have done with our designs you can use the contact form on our site HERE.