Description
This custom anime embroidery design and pattern features the character Baki Hanma from the anime series Baki the Grappler.
Appearance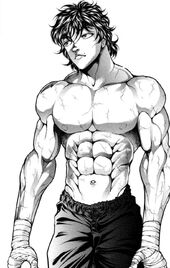 Baki is a boy that stands approximately 5'6 (167 cm). Baki's appearance drastically changes throughout the series as he gets older. Baki's first initial appearance at the beginning of Grappler Baki when he is 17 years old is that of a somewhat child-like demeanor, with short hair that is long in the back. Baki throughout the entire series is shown to have a severely scarred body all around due to the diligent and uncompromising training he puts himself through, with the only exception being his face. Another noticeable feature of Baki's appearance is the mole he has just above his upper lip on the side (this is also a physical trait he shares with his mother, Emi Akezawa).
Having gone intense physical training since childhood, Baki's body is very muscular, flexible and durable. His physique has been described as resulting from constant, rigorous combat training, and is far beyond that of a typical adolescent's. His bones and muscles are also described as being better than those of an Olympic sportsman
If you want to create your own custom anime embroidery projects featuring the character Baki Hanma from the anime series Baki the Grappler, here is what is included in this project.
Includes:
Large Design Properties:
Width: 135 mm
Height: 205 mm
Stitch count: 82,207
Sewing time:  180 min.
Color count: 20
Medium Design Properties:
Width: 85 mm
Height: 129 mm
Stitch count: 50,352
Sewing time:  116 min.
Color count: 20
Small Design Properties:
Width: 49 mm
Height: 74 mm
Stitch count: 30,784
Sewing time:  79 min.
Color count: 20
Files Included:
2 formats: .pes .dst
3 sizes: Large Medium Small
1 color chart
1 image print
If you have any questions, comments, or you just want to reach out to us and share some of the custom embroidery projects you have done with our designs you can use the contact form on our site HERE.