Description
This custom video game embroidery design and pattern features the character Aerith Gainsborough in profile from the video game series Final Fantasy.
Appearance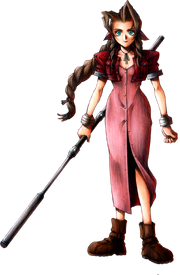 In Final Fantasy VII, Aerith wears a shin-length pink dress that buttons up the front and a red button-up bolero jacket. She wears brown boots and has metal bracers on her wrists and around the edges of her jacket sleeves. In Final Fantasy VII Remake, her dress is more detailed (pink with a white diamond pattern and a white lace hem). Her jacket is a variant of her post-Advent Children renders: it's a zip-up instead of button-up, with zipper pockets and a belt at the bottom. Her original cord necklace was replaced with a flower necklace
with a pearl in the center on a leather ribbon, and a trio of bracelets (gold, silver, and bronze) replace the metal bracers.
If you want to create your own custom embroidery project featuring the character Aerith in a profile from the video game Final Fantasy, here is what is included in this project.
Includes:
Large Design Properties:
Width: 132 mm
Height: 198 mm
Stitch count: 100,694
Sewing time:  215 min.
Color count: 17
Medium Design Properties:
Width: 68 mm
Height: 101 mm
Stitch count: 51,557
Sewing time:  116 min.
Color count: 17
Small Design Properties:
Width: 39 mm
Height: 59 mm
Stitch count: 31,162
Sewing time:  78 min.
Color count: 17
Files Included:
2 formats: .pes .dst
3 sizes: Large Medium Small
1 color chart
1 image print
If you have any questions, comments, or you just want to reach out to us and share some of the custom embroidery projects you have done with our designs you can use the contact form on our site HERE.