Description
This custom anime embroidery design and pattern features the transmutation circle from FMA (Full Metal Alchemist).
Transmutation Circle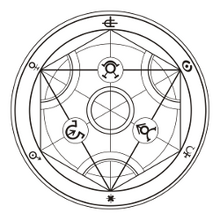 Though no machine or equipment is needed to produce the energy necessary for transmutation, merely understanding the sequence of transmutation and the limitations of Equivalent Exchange is not enough.
In order to begin an alchemical transmutation, a symbol called a Transmutation Circle (錬成陣, Renseijin) is necessary. A Transmutation Circle can either be drawn on the spot when a transmutation is necessary (in chalk, pencil, ink, paint, thread, blood or even traced in dirt) or permanently etched or inscribed beforehand, but without it, transmutation is generally impossible. All Transmutation Circles are made up of two parts.
If you want to create your own custom anime embroidery project featuring the transmutation circle from FMA (Full Metal Alchemist), here is what is included.
Includes:
Large Design Properties:
Width: 132 mm
Height: 133 mm
Stitch count: 109,583
Sewing time:  205 min.
Color count: 20
Small Design Properties:
Width: 52 mm
Height: 52 mm
Stitch count: 48,984
Sewing time:  99 min.
Color count: 20
Files Included:
2 formats: .pes .dst
2 sizes: Large Small
1 color chart
1 image print
If you have any questions, comments, or you just want to reach out to us and share some of the custom embroidery projects you have done with our designs you can use the contact form on our site HERE.