Description
This custom anime embroidery design and pattern features the character Guts in a profile from the manga Berserk.
Creation and Conception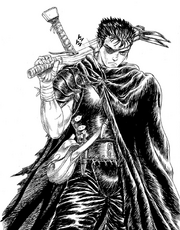 In Berserk: The Prototype, Guts originally wore an eyepatch over his right eye and bore noticeably longer sideburns. Personality-wise, the prototype Guts was more brash, cocky and whimsical in nature. Additionally, the crossbow he utilized didn't attach to his prosthetic arm and his Dragon Slayer also possessed a slightly different design.
Guts possessed long hair and a katana in place of his Dragon Slayer in one of his earliest designs. According to Miura, it took him a while to conceive Guts as the swordsman appears today, but upon coming up with the character's current overall aesthetic, he knew he had hit the nail on the head.
If you want to create your own custom anime embroidery projects featuring the character Guts in profile from the anime series Berserk, here is what is included in this project.
Includes:
Large Design Properties:
Width: 130 mm
Height: 121 mm
Stitch count: 48,076
Sewing time:  99 min.
Color count: 4
Medium Design Properties:
Width: 95 mm
Height: 87 mm
Stitch count: 33,098
Sewing time:  71 min.
Color count: 4
Small Design Properties:
Width: 71 mm
Height: 66 mm
Stitch count: 24,477
Sewing time:  55 min.
Color count: 4
Files Included:
2 formats: .pes .dst
3 sizes: Large Medium Small
1 color chart
1 image print
If you have any questions, comments, or you just want to reach out to us and share some of the custom embroidery projects you have done with our designs you can use the contact form on our site HERE.